The Essential AIR SEAL – Dust Containment Combination
A cement production operator based in the Port of Brisbane needed to deal urgently with:
excessive dust emissions, posing major OHS issues;
material spillage;
belt support and belt sag issues; and
v minimizing production shutdowns.
The cement company's core business focuses primarily on unloading key cement materials utilized for cement production. The finished cement products are then later packed into 20kg bags, and bulk raw materials are also loaded into trucks to service building, construction, and road development projects.
A comprehensive site inspection was conducted by ScrapeTec's Area Technical Representative; it was noted standard chute sealing was used together with a basic clamping system positioned outside the chute.
The current skirting system in place and lack of inner skirting was insufficient and failed to contain excessive dust emission and material spillage experienced at the transfer point.
Dust and spillage levels were high and constant during ship unloading process. This provided zero visibility of the 70-metre-long conveyor tunnel and had greatly affected maintenance team's ability to monitor efficiencies and bottlenecks in the production process.
Site Management was mindful that material spillage was eroding the operator's bottom line, with additional cleaning up costs incurred to clear the spillage piles and prevent any tripping/slipping hazards. Dust extraction trucks were also necessary to clean the walkway and the tunnel on regular base.
Dust poses a serious OHS hazard to workers, the environment, and nearby communities; suppressing dust emissions was therefore high on the agenda and required rectification to minimize any production downtime and improve site availability.
ScrapeTec implemented its AirScrape® application on site, achieving:
problem free transfer point, dust emission and material spillage reduced by 98%;
no belt damage, no future adjustments and maintenance is necessary;
product performance expectations exceeded; and
more upgrade opportunities in other transfer points.
The operator was first introduced to the AirScrape® application in 2020 when it was installed on a trial basis. ScrapeTec's Technical Area Representative touched base with the operator on a regular basis to monitor the AirScrape® installation and performance when it was initially trialled in the ship's unloading transfer chute.
Extremely satisfied with the outcomes achieved at this transfer point, the operator welcomed the implementation of The Essential AIR Seal – Dust Containment Combination – phase 2 recommendations. This entailed a few necessary adjustments before the installation of AirScrape®, TailScrape® and ceramic ST-Containment Seal was installed and fully operational within the chute area.
To ensure maximum performance of AirScrape®, SureSupport Belt Support System, a vital component of the overall solution was installed in order to avoid the issues of belt sag between the impact rollers.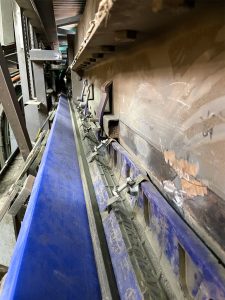 A smooth straight and flat belt surface kept the AirScrape® lamellas continuously in the right position with no physical belt contact. TailScrape® worked synergistically with AirScrape® and provided outstanding sealing at the rear and ST-Containment Seal delivered on its promise as the first line of defence and effective against dust and spillage.
Maintenance teams are also thrilled to report, prior to the phase 2 recommended installation, there was extremely poor visibility of the tail end of conveyor from the head chute. With dust and spillage under control visibility along the 70-metre-long conveyor is now vastly improved.
"The Essential AIR Seal, Dust Containment Solution is a huge improvement in comparison to our initial setup, no belt damage and no ongoing maintenance is required," reported by Site Manager.
The operator has cemented its plans to upgrade all the chutes in the conveyor stream from ship unloading to the stockpiles, representing five transfer points in total. Both Kinder and the operator propose to utilize AirScrape on other applications onsite, this is a positive sign the issues of belt damage and material loss will be a thing of the past.